Can I just tell you all how excited I was to FINALLY get taken off the waitlist for the Sephora Play box? I've experienced my fair share of subscription boxes (some might say I have a slight obsession), and trying out one of Sephora's curated box was at the top of my list.
The Sephora Play box is very similar to Birchbox. For $10, they send you 5 deluxe samples (these are all products available in their stores) AND a perfume sample bonus. So instead of wasting an entire sample on a perfume, it's just added as an extra. I'm pretty sure they send the same samples to everyone – but don't quote me on that. You can read more about it here!
February 2017 Sephora Play Samples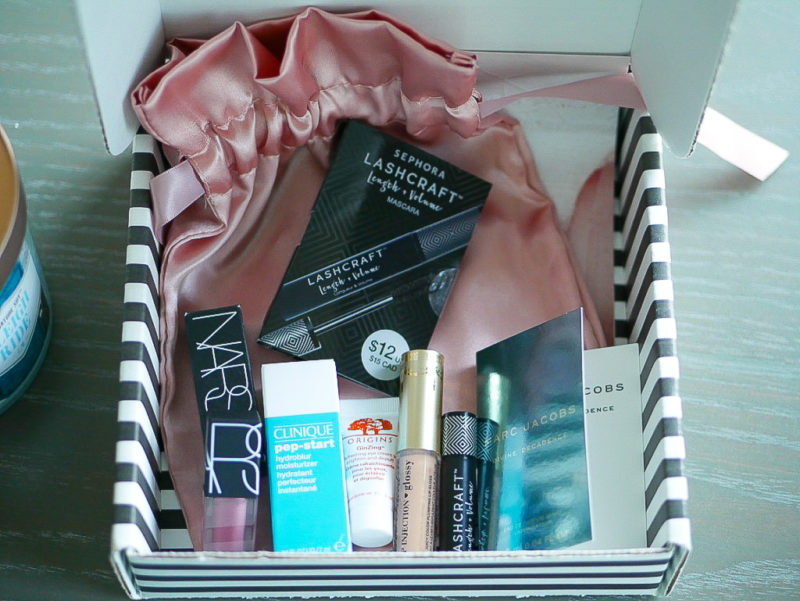 Full size, $26. Sample size, $8.50.
Okay so, I loooove the formula of this lip color and the actual color is a beautiful rosy nude color (see swatch below). However, it's pretty much the same color as my natural lip color, so it doesn't do much to enhance my lips personally. I do love the product itself though, and I'm a huge fan of Nars. This is mostly a win, but a little disappointed in the color.
---
Full size, $29.50. Sample size, $4.25.
Yessss so excited about this product! I love Clinique and this girl can never have too many moisturizers (my dry skin issues only get worse in the Winter). I'm especially excited to try it out and see if it actually "blurs" any imperfections and larger pores. This product is definitely a win!
---
Full size, $30. Sample size, $10.
Another absolute win. Origins is hands down my favorite skin-care brand (I'm planning writing a post about this soon) and any samples I can get of their products is an immediate win for me. I have horribly dark circles under my eyes, so I'm really excited to try this out. It is a tiny sample, but surprisingly worth a fair amount and since it's just for the eye area, it should be enough to be able to form a valid opinion on it.
---
Full size, $22. Sample size, about $4.80.
Another brand that I love! I tried this product on and there is a definitely a significant tingly sensation that lasts for a good while. My lips were a tinyyyy bit plumper, but nothing too significant. I do really love the shade though – a pale nude. It's perfect for a lip gloss and it's the perfect shade for warmer weather.
---
Full size, $12. Sample size, about $4.
I will take all the mascaras I can get. I can't even tell you the last time I purchased a mascara. Thanks to Birchbox, I have a plethora of mascara samples – and you'll never catch my complaining about that. I've never tried any of Sephora's mascaras, so I'm excited to get to try this one!
---
Full size, $97. Sample size, about $2.25.
I'm not going to harp too much about getting a perfume sample because I'm considering this a bonus. I have wanted to try this perfume, but if this was considered one of the 5 main samples, I would have notttt been happy.
---
The box is worth a total of about $33.80. Although it's worth only a little bit more than February's Birchbox, it feels like it's worth much, much more. I love pretty much every single sample and I'm excited to try them all. This box is definitely a win, and I hate to say it – but it wins this month's edition of "Battle of the Boxes."
I will say one thing though, I do like how Birchbox tailors your samples more to your preference. I feel like they focus more on sending you products that you're in need of, whereas the Sephora Play box chooses products that they think will be popular amongst most of their subscribers.
Who do you think won this month's battle?