Many of my longtime readers might know that I have been going back and forth for a while now, with deciding whether or not to keep my Birchbox subscription. I've been a loyal subscriber for almost 5 years and up until they got rid of the rewards program, I was in love with the service.
This month I FINALLY got my hands on a Sephora Play box. But before we get to that, I wanted to open up this month's Birchbox to see if it's finally time for me to end my subscription with them.
If you aren't familiar with Birchbox, it's a subscription box for $10 a month and comes with 4-6 deluxe samples. These are mostly beauty related, but it ranges from makeup, hair care, and sometimes even snacks. You can learn more about it here!
February 2017 Birchbox Samples

---
Full size, $25. Sample size, about $15.
This lipstick is a GORGEOUS color, and it does go on very smoothly. The swatch I put on my wrist was impossible to fully wipe off until I got in the shower and scrubbed. I will say, the color to me feels more like a fall/winter shade, but I'm never one to complain about getting another lip product.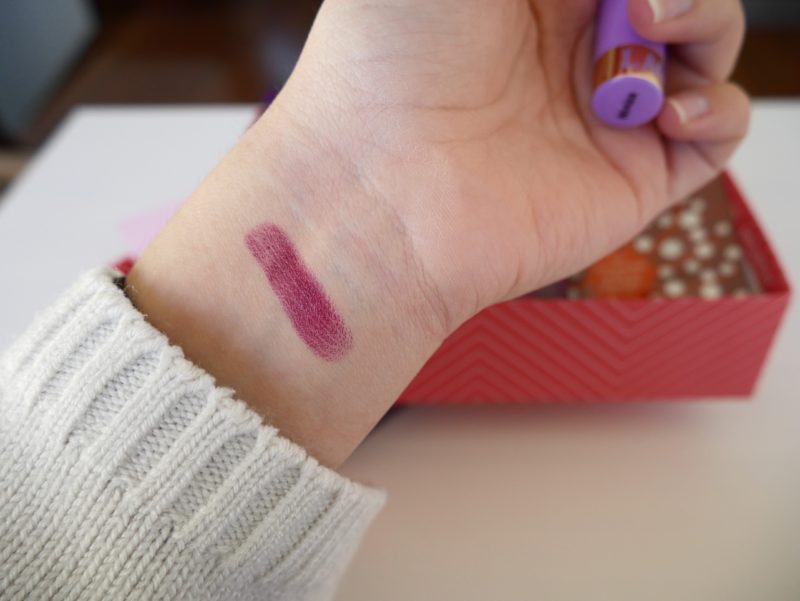 ---
Full size, $18. Sample size, $3.60.
Props to Birchbox for sending over a product that addresses one of my number one skin concerns – my under eye circles and puffiness. Do I need eye pads with collagen? Probably not. But I love the eye pads that fit right under your eye and don't get in the way of anything. I'm pretty satisfied with this sample.
---
Full size, $32. Sample size, $2.04.
A repeat. Ughhhhhh. Nothing I hate more than getting a repeat sample, and a lackluster one at that. This sample is pretty tiny for a product that is supposed to cover your entire face. I also have a brand new bottle of my favorite CC cream (here), so I don't feel the need to try a new one. I'm just not impressed with this sample.
---
Full size, $29. Sample size, $6.86.
I actually really love this brand, and I just ran out of my hairspray! So this sample is perfect. I've used their dry shampoo before and it worked great (and smelled good). I'm really looking forward to trying out this product. This is another hit!
---
Full size, $34. Sample size, $3.15.
No. No, no, no. Not only have I received this sample before (that is 2 repeats in one box!), but I also just don't understand the point of this sample. It is a body peel, but the sample size is TINY in comparison to the full sized product. How am I supposed to test out a "body peel" with .5 fluid oz? And do I even really need a body peel? This is probably the most disappointing product.
---
Okay so, the box comes out to a total of $30.65. The total value isn't bad, but 2 out of 5 products were not only repeats, but products that I just don't even want to use. I still consider this a relative "win", because I'm happy with more than 50% of the samples. This isn't a box that would cause me to cancel my subscription, but there is also no wow factor.
The real question is, will it beat February's Sephora Play Box? Stay tuned for another unboxing this weekend!
Let me know what your thoughts are on this month's Birchbox. Did you receive any awesome samples?