If I'm going to be honest with you all, productivity is not my strongest suit. I have always been a procrastinator – I wouldn't start my homework until 9 PM and I wouldn't actually start studying for an exam until the night before.
When I started this blog, it was just a way to pass the time. Now, I actually feel really committed to it. However, in order to actually stick to my word when it comes to posting on a regular basis, I've had to learn how to be productive at home.
Let's be real, 99% of the time all I want to do is curl up into a ball on my bed and watch Netflix. I'll even tell myself that I can multi-task and write at the same time (spoiler alert: it doesn't happen). Instead, I've had to find ways into tricking myself to actually up my productivity at home. Here are my absolute essentials when it comes to being productive while working at home.
5 Tips for At-Home Productivity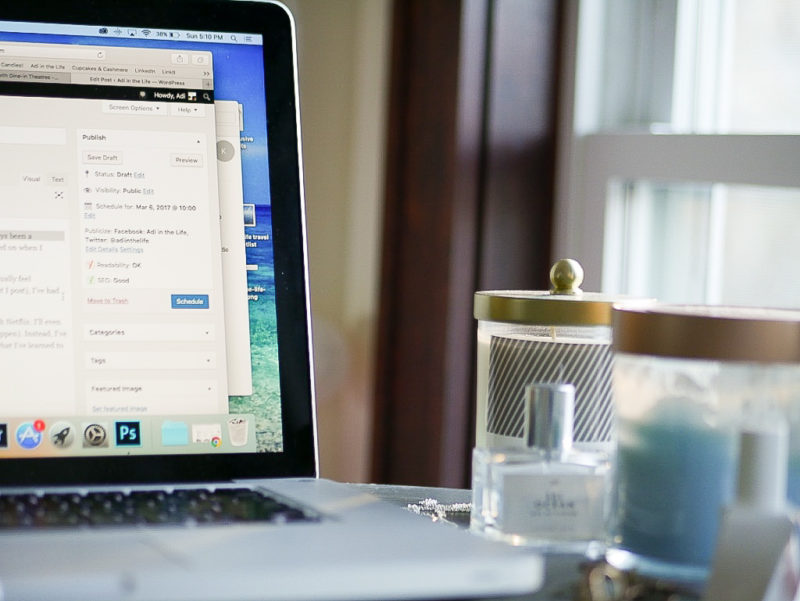 1. Find a Work Area With No Distractions
Don't work in bed. No matter how cozy it is, don't do it. For two reasons. 1, your bed should be a sacred place that you only associate with relaxation. 2, you will get nothing done. Find a place in your house that can basically become an "office", or leave the house all together and work at a Starbucks or a local cafe with (free) wifi. I have a little nook on the other side of my bedroom that is nowhere near a television, and it's the perfect place to do work.
2. Take Breaks that Are Timed and Useful
I've noticed that if I try to do a lot of work at once, at some point I hit a dead end and can't focus anymore. Take a break here and there while you're working, but make them useful breaks. Go outside on a walk to get some exercise in. Fold some laundry, clean dishes. This way, you're still being productive and you'll still be in the mindset that you need to get things done. Don't put on "one episode" of your favorite TV show. If you're anything like me, you'll be 5 episodes deep before you realize you never finished what you wanted to get done.
3. Stick to "One Thing at a Time"
I used to be a prime example of easily getting overwhelmed just by thinking about all the things I needed to get done. Just take each task as one step. This is my absolute favorite motto to work by. I promise your stress level will go down immediately if you start using it.
4. Organize Your Tasks
Whether you're using a daily morning task list or a full-fledged planner, physically organizing everything you need to get done is absolutely essential (especially for step 3). This makes it much easier to get things done one thing at a time. I usually take the morning, usually while sipping on my coffee, to make a list of everything I have to do that day.
5. Have Healthy, Easy Snacks on Hand
I don't know about you, but when I'm stressed, the first thing I want to do is snack on something. But if I don't have something easy to snack on, I'll move on to making homemade guac or eggs, or some crazy salad. I've learned that having something healthy (and SUPER EASY) is absolutely essential. I spend less time making the snack, and I can eat more of whatever it is. Fruit, trail mix, or even some lightly buttered popcorn are perfect snack options. Lately my go-to has been plantain chips (they are sooo good and a healthier alternative to potato chips!).
---
What are your tips when it comes to being productive at home?