What better way to start off a new series than with the first meal I have ever prepared in my crock pot? Adi in the Kitchen, a lame play off my blog title, is just what it means – my adventures in the kitchen.
Today I'm bringing you a crock pot recipe for Chicken Fajitas that I found here on Cooking Classy. I tweaked the ingredients a tiny bit but all the credit goes to her for her delicious recipe. Now they might not have come out as beautiful as I had hoped (I obviously need to work on my food staging skills), but they did come out delicious!
What you need:
2 lbs boneless skinless chicken breast
1 can petite diced tomatoes with green chilies (I used a 10 oz can)
2 peppers (red, orange)
3/4 of a large yellow onion
4 cloves of garlic
2 1/2 tsp of chili powder
2 1/2 tsp of cumin (ground)
1 tsp of paprika
1/4 tsp of dried parsley
1 tsp salt
3/4 tsp of black pepper
2 Tbsp of lime juice
1 Tbsp of honey
Directions
Julienne your peppers and cut your onion in halves and slice them. Mince garlic cloves (or use pre-minced garlic if you're lazy like me).
Spread about half the can of petite diced tomatoes into the crock pot and add in about half the peppers, half the onions, and all of the garlic.
In a small bowl, mix together the seasonings (chili powder, cumin, paprika, dried parsley, salt, and pepper) and sprinkle evenly on both sides of the chicken.
Add the chicken into the crock pot.
Add in the rest of the tomatoes, peppers, and onions.
Cover and cook on high for 3-4 hours or low for 6-8 hours.
If cutting the chicken into strips, take them out at about 3 hours, cut them, and place back in the crock pot for the remaining time, until chicken and vegetables are tender (otherwise you can shred the chicken at about 4 hours).
Once done cooking, remove about a cup of broth from the crock pot
Whisk together lime juice and honey and pour over chicken and veggies (add any other seasoning if desired)
Gently toss it all together and serve!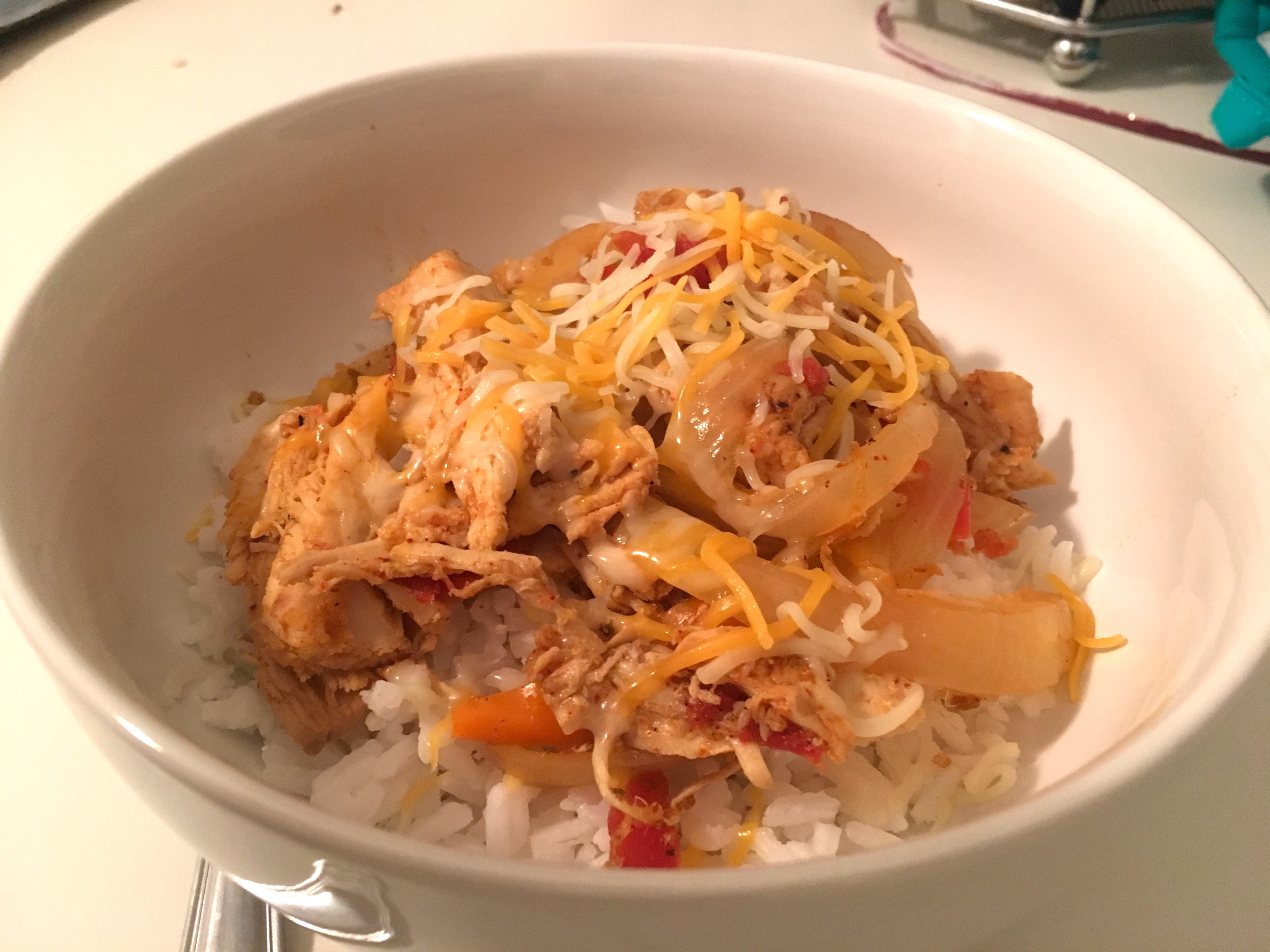 Obviously you can eat these in tortillas, like normal, but I chose to eat them over a bed of rice and topped it with some shredded Mexican cheese (you could also use guacamole, chopped tomatoes or onions, salsa, etc.). These were absolutely delicious and super easy. The only thing I recommend from my own trial and error is to take out the chicken a little earlier (I chose to leave it in for 4 hours instead of 3) so that you can cut it into neater pieces instead of shredding the chicken completely like I ended up having to do. It'll taste the same but will look nicer!
If you have a crock pot, what recipes are your go-to's? Let me know if you try this one out, I have a feeling I'll be making it again soon!